Passengers disrupted over Southern conductors' strike
There are no trains today between Eastbourne and Ashford.
From the BBC 26/4/16 @ 11.09

From the sectionEngland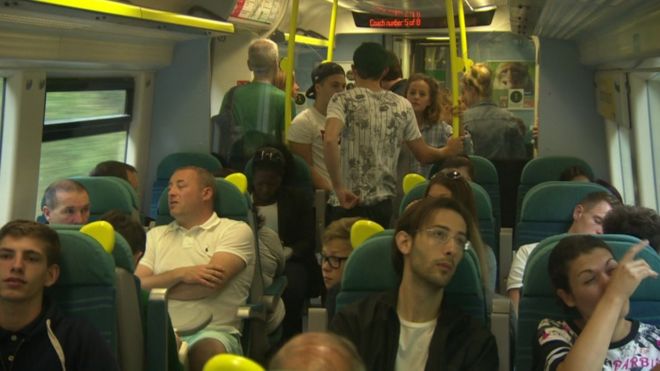 Passengers on Southern railway are facing more than 24 hours of disruption due to a strike by conductors over their role and driver-only trains.
Members of the Rail, Maritime and Transport (RMT) union will walk out from 11:00 BST, with services being reduced from 07:30 BST.
Regional organiser Paul Cox said it had been left with "no alternative".
Southern said many routes would have no services at all and queuing systems would be in operation at stations.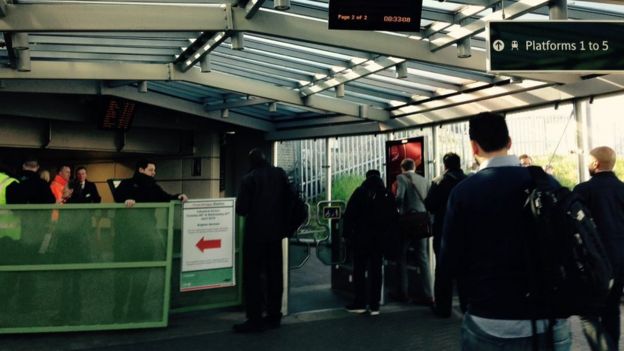 In a message to passengers, Southern said: "You may have a long wait before you are able to board a train. Unfortunately we cannot guarantee to get you to your destination."
---
Southern rail strike: Affected routes
The Brighton to London line has a reduced service
A significantly reduced service on the Bognor Regis/Littlehampton-Three Bridges, Chichester-Brighton, Eastbourne-Brighton, Gatwick-Purley and East Grinstead-East Croydon lines
No Southern trains at all on the Tonbridge-Redhill, Dorking-Horsham, Oxted-Uckfield, Eastbourne-Ashford International and Lewes-Seaford lines
---
Southern, which is owned by Govia Thameslink Railway and operates in Sussex, Surrey and parts of London, Kent and Hampshire, plans changes to the role of conductors which will see responsibility for operating the doors switched to the driver.
It said there would be no job losses or cuts in salary and the changes would make staff more visible.
The RMT said passenger numbers had "increased dramatically" and conductors were "the eyes and ears preventing a major tragedy on the platforms and carriages".
Mr Cox said the union had offered to discuss changes to the role "that would retain the operational and safety commitment from the conductors, but it fell on deaf ears".
The Conservative MP for Wealden, Nus Ghani, told BBC Sussex: "The changes proposed, driver-only-operated trains, are happening on a third of the network already.
"I do not remember the last time I got on a train and there was someone to help me physically, on or off. Drivers can manage the doors," she added.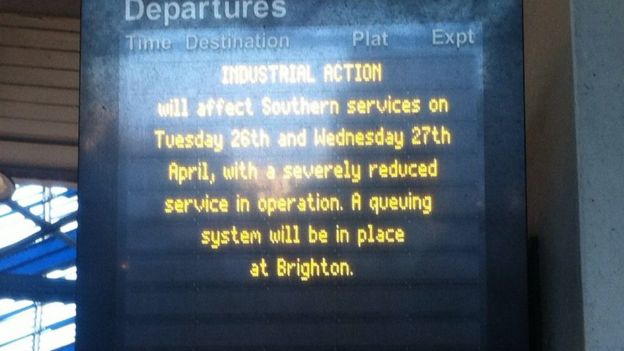 Southern's passenger services director, Alex Foulds, said the strike was "totally unnecessary".
He warned passengers to "check before they travel".
"Some routes will have a reduced service, some routes will have no train at all, and some trains will stop operating at about 6pm," he said.
Two further 24-hour strikes are planned at the same time on 10 and 12 May.
____________________________________________________________________
  December 2, 2015
Rail meeting in Rye – Amber Rudd's comments
Here is a copy of our MP's latest missive. She seems quite optimistic about the future of local rail. We shall see. By the way you can spot John, Stuart and myself in this picture which was taken by Ray Prewer so we were well represented!
Extending High Speed Rail to Rye, Hastings & Bexhill
Over the last few weeks there has been some real progress on my three main rail campaigns – working towards bringing High Speed Rail to our area, boosting capacity on the Marsh Link line, and improving connections between the Hastings campus and the rest of the University of Brighton.
Last week the Chancellor of the Exchequer reiterated his support for the extension of High Speed Rail to Rye, Hastings and Bexhill. This scheme will be assessed next year in Network Rail's Kent Route Study. This will help inform the decision on funding from 2019.
To secure the necessary investment for an extension, it is vital for us all to make the case to government on the immense benefits this upgraded rail service will bring to our area. To this end, I am in the early stages of setting up a working group on High Speed Rail. This will be composed of local MPs, councillors, council officers, campaigners, and other rail and business leaders. The purpose of this group will be to speak on your behalf with a loud and clear voice to those who will make the decision on the project.
On Friday I attended the AGM of the Marsh Link Community Rail Partnership which is doing great work towards service improvements on the Ashford to Brighton line.
Services are often overcrowded and I am in contact with the Department for Transport and GTR – which operates Southern services – on what can be done to increase capacity on the line.
Similarly, I am pushing the Department for Transport and GTR to extend the scope of their Unizone product to Hastings. This ticket enables University of Brighton students who need to commute between its campuses to receive discounted train travel – but, currently, it does not include the Hastings campus.
I have met with representatives of the University, its Students' Union and its student body, and I fully recognise their concerns that this inflicts an unfair cost on Hastings students which is not born by the rest of the University, and that it inhibits the growth of the University in Hastings.
Rail is vital in linking our area together and providing the connections wider afield to enable growth. These three projects are key examples of this, and I will keep you updated on their progress.
Best wishes,
Amber
Amber Rudd
MP for Hastings & Rye